Since NetSuite's Case Management goes hand-in-hand with customer service & support, Contivio has developed seamless integration with cases across all channels. In addition to phone and live chat, Contivio also integrates with cases to track your inbound "Email" channel.
The workflow for case management with Contivio's email product is as follows:
Step 1 - Customer sends you an email to a group email (like support@contivio.com or sales@contivio.com) and it goes into NetSuite and creates a case.
Step 2 - Contivio queries NetSuite cases to see if a new email has been received.
Step 3 - Contivio's API sees the new email, queues it and notifies the next available agent that the email is in queue.
Step 4 - If the agent accepts the email, Contivio screen pops the email in NetSuite and the agent responds within NetSuite. If the agent declines the email in Contivio's notification window, it gets routed to the next available agent.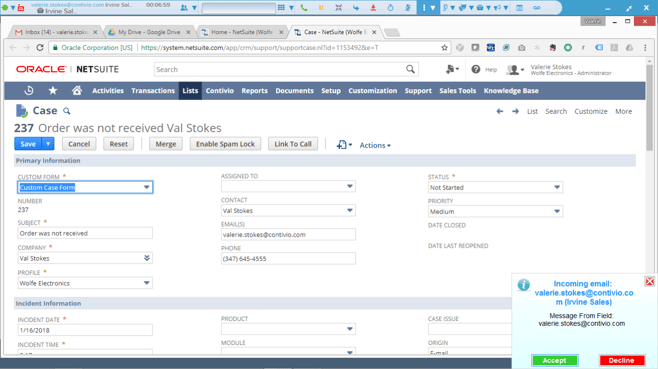 One of the benefits of using Contivio's email integration is advanced routing and distribution capabilities. With Contivio, you can route an email by the customer's lifecycle (i.e. if they are in lead stage, route to the sales rep in NetSuite. If they are in the customer stage, route to the service agent in NetSuite), the agent who last handled the customer's email, or the last agent who spoke to the customer across any channel (including phone, SMS and chat).
If a rep is a member of all queues and responds to customers across all media, Contivio can ensure that they are only offered one customer issue at a time via one channel (i.e. only handling one email, chat, phone call or voicemail at one time). Contivio can also prioritize certain media over others to ensure that the most important cases are being resolved first.
Another benefit of using Contivio's email integration is the holistic reporting. Using Contivio's dashboard, you can see how many emails are waiting in each queue, what the average email handling time is, and who is handling each email in real time, etc.

Learn how our other channels integrate with NetSuite cases: