10th Year Sponsoring a Banner Success!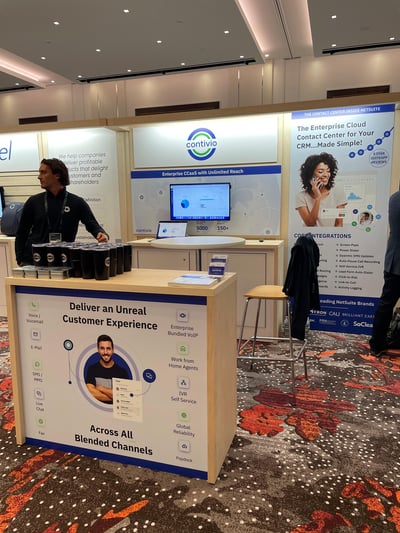 NetSuite's annual user conference was recently concluded in Las Vegas (SuiteWorld 2022). As expected the conference exceeded the years prior and was packed with customers and partners alike. Once again, Contivio was the sole Cloud Contact Center provider in attendance. We were happy to meet with many longtime NetSuite partners, current clientele, as well as many new fresh faces.
As expected Contivio had boots on the ground who joyfully manned a booth the entire week (booth 319). Through live demonstrations and meaningful discussions, we connected and educated the curious passer-by, along with those actively on the market for new call center solution.
One of the big takeaways after speaking with a number of customers is the number of companies leaning on eight, nine, sometimes ten or more systems just to have a fully operational Call Center. It's no wonder why everyone who stopped for a live demonstration and saw our native Contivio technology was thoroughly impressed. For the attendees who could not attend the event in person, our SuiteWorld On Air Session provided online attendees the chance to explore our native NetSuite Call Center integrations, technology, and functionality.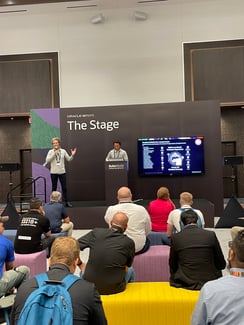 Simon Butler (Founder/CEO) and Tim Dancey (VP of Sales) had the pleasure of taking "The Stage" to offer valuable insights into Contivio's past, present, and future roadmaps. Tim showcased a live fifteen-minute demonstration to highlight the unrivaled value proposition of Contivio for NetSuite (which included a sneak peek at the new Mobile WebRTC app). There were upwards of 40 attendees at the presentation and the reception was fabulous. I'll take this time to extend our many thanks to all that came by to say hello, and those that attended our On Air Session.
For those who were not able to meet with us at SuiteWorld this year, feel free to contact sales at 1-800-282-8105 or by email at sales@contivio.com to book a free demo. We also recommend you visit our SuiteApp profile to see more insight into features, customer reviews, and much more.
ABOUT Contivio: The leading Cloud Contact Center & Telephony solution for your CRM. As a multi-channel contact center provider, Contivio acts as the conduit between the customer and agent to transform your CRM into a fully-fledged call center coupled with IVR, ACD, and CTI.