Did you know NetSuite offers an industry-leading Auto Dialer powered by Contivio? Simply build a saved search in NetSuite, and launch the Auto Dialer in seconds. Not only will this increase agent efficiency and productivity, but more importantly, it's proven to shorten sales cycles and give your customers a better overall experience. Sales reps can also drastically reduce their handling time between each call to reach more leads, prospects, and opportunities without ever leaving their NetSuite screen.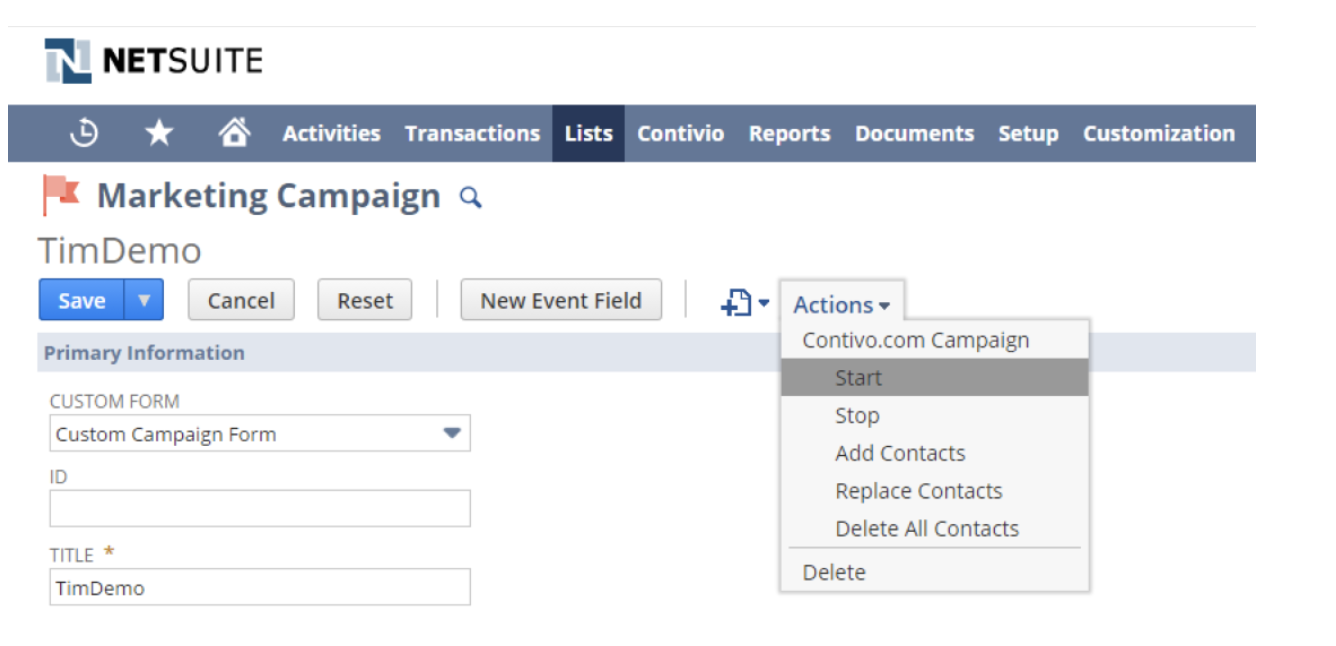 Within NetSuite's marketing campaign section, agents can assign targeted saved searches, and seamlessly start and stop a preview or progressive auto-dial campaign with the Contivio "Actions" button. In short, with our NetSuite Auto Dialer, your team will be able to easily trigger auto-dialing that will launch calls automatically one right after the next, screen pop the record and automatically include notes and call recordings for each call.
The benefits of using the Auto Dialer feature in your NetSuite CRM include:
Saved Time: By automating the dialing, recording, and CRM call logging process, agents spend less time on rudimentary tasks and more time talking with leads, prospects or customers. This system shortens the sales cycle by increasing efficiencies.
Reduces Downtime: The auto dialer drives productivity by keeping the calls flowing one after another and handling all of the reporting automatically.
Call Recording: With the Contivio system, all calls will be recorded and logged in NetSuite for future reference. This is also great for training, reporting, and coaching purposes.
Performance Reporting: As a supervisor, you have direct access to performance reports to see how many calls each agent made and what the outcome of each call was. Using native NetSuite dashboard call stats will be available at any time per agent.
The Contivio NetSuite Auto Dialer feature gives all agents the ability to do more with NetSuite. This auto-dial feature extends the core functionality of your NetSuite CRM by facilitating efficient call campaigns by agent and team.
Additionally, this new feature also allows for inbound calls and live chats to be handled simultaneously, keeping customer satisfaction as high as possible. Looking for a click-to-dial solution? No worries, Contivio has you covered there as well. Rest assured regardless of the channel (e.g., voice, chat, auto-dialer, click-to-dial) your team will be able to see all previous notes, recordings, and dispositions in NetSuite.
The NetSuite Auto Dialer also allows for easy control of your target list. For instance, agents can update or delete contacts in that list in the event of a change in phone numbers or an invalid entry. Furthermore, we're now offering a feature that will automatically add a phone number to a Do Not Call list, in order to streamline productivity and eliminate unnecessary outbound calls if the person does not wish to be contacted again. With this feature, agents will be able to simply click the "Add Phone to Corporate Do Not Call" icon in the toolbar or floating application. This will prompt the agent with a popup to confirm that they'd like to add the number to the DNC list.
Once the agent is done for the day, or simply ready for a coffee break, he or she can just hit the "top" button to pause the campaign. Once the agent hits "Start" again, it will pick up right where it left off.
To use the auto-dial feature, click the "Actions" button in your NetSuite Marketing Campaign page. Press "Start" when you're ready to begin making calls and click "Stop" when you need a break, as seen in the screenshot below.
The Contivio NetSuite Auto Dialer feature is now available to all of Contivio's NetSuite users. If you would like more information or a personal demonstration of the new auto-dial feature, please contact us here.