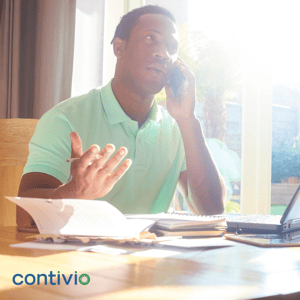 As a business, you know that one of the most important things to do for your success is to maintain a high level of customer satisfaction. This includes a person calling into your customer service center, contacting you for sales information, or needing to talk with any other department, like technical support, finances, and so forth. One of the best
ways to make sure your customers don't get frustrated when they call you is to implement an IVR system for business.
What is IVR?
So what is an IVR system for business? IVR stands for interactive voice response. This is a technology that allows your calling customers to first interact with a computer-operated phone system to do one of the following things:
Route their call to the correct agent or department
Answer simple questions with straightforward answers
Check on the status of things like account balance, shipping information, order or account status, and so forth.
Benefits of Utilizing an IVR System for Business
Businesses around the world have adopted IVR systems because the benefits for the customer and your team are immense. They include:
Reduced on-hold time, as some of the calls can be answered without interacting with an agent
Streamlined customer support by getting the caller to the right department as soon as they call
Better customer experience
Giving your customers more control over the process, as they can choose to stay on the line, have someone call them back, or be directed to certain departments
Saving your agent the time and hassle of fielding extra, unnecessary calls, and freeing up your queues for more pressing customer-support neds
If your company has not yet adopted an IVR system for business, it's high time you do. Your customers will appreciate the added layer of customer service, and your agents will be able to spend more time focusing on the calls that really need attention.
With Contivio's self-service IVR tools and features, your customers will have the experience they deserve. For example, customers can easily type their case ID or sales order number into the IVR, and Contivio will read them their latest status directly from your CRM. This frees up an agent from having to manually answer this question and frees up your queue for other calls.
Contivio uniquely integrates directly into your existing CRM seamlessly to give both your agents and customers the tools they need to have a great experience every time. Click here to schedule a free demo to learn more about Contivo's IVR system for business, or contact us with any questions.