Contivio's Professional Services offer a turn-key approach to contact center automation and are designed to streamline the process of engaging Contivio's powerful contact center solution in a manner that will allow you to focus on your business.
Our seasoned contact center experts work with you in a consultative manner to achieve your desired results. Through a combination of interviews and discovery sessions, we will gain an in-depth understanding of your business objectives and recommend the optimal course of action based on your timeframe, project requirements, and available resources.
Regardless of whether you are a new or long-standing customer in need of project management, migration planning, or advanced customization skills, Contivio's Professional Services group is ready to help you set your contact center up for success.
We promise to provide you with:
A leading edge, robust and scalable solution set.

A solution set built on a leading technology platform.

A partner with a clear, specific focus on contact center solutions.

A partner with global reach and experience and practical day-to-day industry knowledge.

A team with detailed knowledge of the contact center marketplace and a solid reference customer base.

A team with a detailed understanding of the need to provide clients with the lowest Total Cost of Ownership (TCO) of prospective solutions, and the need to work with our clients to achieve the required Return on Investment (ROI).

Short Time-To-Benefit in the delivery and implementation of our solutions. Contivio.com has a proven, well-established implementation methodology.

A partner with a focus on integrity and honesty in all dealings with our clients.
Implementation Overview
Experience has taught us that project success is underpinned by four key elements:
Committed Stakeholders

Accountable Project Management

Defined Scope & Design

A Highly Experienced & Reliable Project Team
In the same vein, we recognize that our customers' implementation assistance needs vary relative to the size and complexity of the deployment and the proficiency of their internal IT team. Our Implementation Services team can sit across all aspects of the implementation, working closely with your personnel to ensure a smooth and orderly deployment in order for your organization to achieve a successful outcome.
Implementation Methodology & Phases
Our Implementation Services team sits across all aspects of the implementation from start to finish. Our tried and tested project governance structures ensure both Contivio and our customers are aligned in terms of resourcing, expectations and deliverables.
Contivio's case-tested, four-phase methodology approach will be adhered to for on-time delivery and to achieve maximum benefits: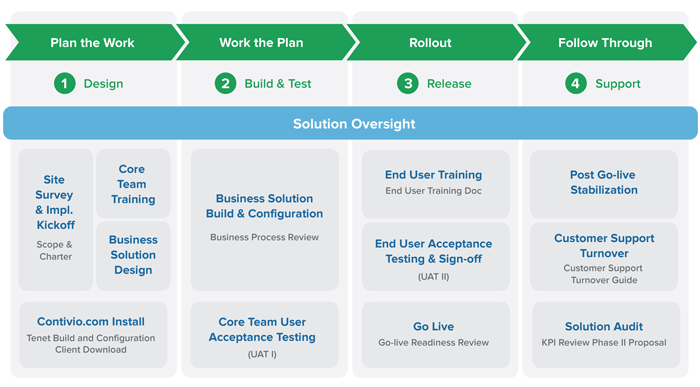 Training
Contivio offers a variety of training methods for Agents, Supervisors, Administrators and Business Partners respectively.
On-Demand tutorials and webinars are available for Agents, Supervisors and Administrators.

Contact Center live training sessions focus on the Administrator and Supervisor Roles.

We offer "train-the-trainer" oriented live sessions. Supplementary documentation and training aids are provided to empower our clients to support their Agents needs directly, especially if they're rolling out new contact centers.

Given the unlimited breadth of possibilities the Contivio CloudConnect offers, and not just in terms of CRM screen-pops and IVR configuration, but also when considering the capability of converting anything into a web service, we offer 2-hour "deep dive" CloudConnect webinars.
For more questions on our training methodology, please contact us.
Support
At Contivio, we always aim to give our clients the best ongoing support to ensure they're making the most out of their contact center. Contivio's Customer Support Team offers support plans for both Contivio clients and partners. Once you come on board with Contivio, we offer several ways for you to contact the Contivio Customer Team:
Customer Support Portal – All customers, whether you are supported via a Contivio Professional Services contract or your partner directly, have access to the Online Customer Support Portal. There you can create, update, and view cases online and search our knowledge base and FAQs. You can also view a variety of Agent, Supervisor and Administrator demos and access user manual/help templates.
Email – You can email us at support@contivio.com, which will automatically create a case with your description and be routed to the appropriate representative.
Telephone – As Contivio is sold both directly and via our business partner network, in addition to the above self-help support services, we offer telephone support contracts directly to Contivio clients, as do our business partners. If you are supported directly by a Contivio business partner, you can rest assured we sit behind all partnerships to ensure you receive the best client experience. Feel free to call us at 1.800.282.8105 for help.
Live Chat - Contivio uses our own Live Chat functionality to help our customers with support issues. Visit our website at www.contivio.com to chat with us.
From the App - Agents can submit any bugs or issues through the Contivio app under Settings -> Customer Support. Once you report an issue, the app will automatically send our team a detailed log so that we can track down a solution.
Remote Support – From time-to-time, a Contivio Service Engineer will need to access a user's PC to troubleshoot a reported issue. Contivio uses a remote access tool called TeamViewer. TeamViewer allows our Service Engineer to access your PC over the internet within minutes as if they're sitting in front of your computer. Click the button below to give us quick and simple access to your PC.