Some of you may have noticed that Contivio.com recently got a makeover! With the launch of our new website, we've also revamped our Live Chat to match - and - the best news of all is that the new enhancements are now available to our clients as well!
With Version 4.0, Contivio Chat customers have access to new functionality and sample styles to further optimize their chat conversations just in time for the holiday season.

Below is a list of all the new chat enhancements that can now be implemented, and we've also created a new Live Chat Setup Guide & API Integration Document to guide you through the process step by step. Current customers can contact us at support@contivio.com to receive a copy of the new document.
Live Chat Feature Highlights:
New Chat Bubble style that's easy to set from the Admin Portal - No code required!
Add images to your Waiting & Thank You pages.
Easily copy Contivio's new style code to your website - All you have to do is swap out the images with your own!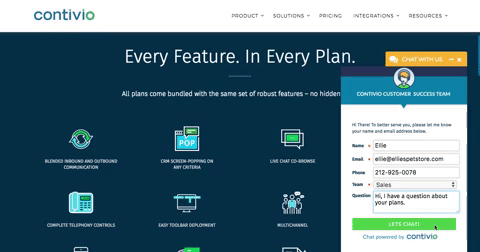 We understand that some of our clients may not have the resources to implement all of the customizations they want, so with this new update we're also offering:
Free Live Chat Consultation - Talk to a Senior Engineer who will help you and your developers get started.
Branded Chat Designs - We'll work with you to style your chat to match your website. Email us for a quote.
If you're a current client and you'd like our help redesigning your chat, please reach out to us at sales@contivio.com for a quote.
If you're new to Live Chat and you'd like to add it to your Contact Center, contact us at sales@contivio.com and we'll send you the steps to get started.
A Closer Look at the New Enhancements in Version 4.0:


All chat pages are now fully customizable by custom style sheet (steps 1-4 above).

Custom style pages can now be set from within the Admin portal and style both the customer and the agent chat consoles.

We have introduced a new "bubble" chat style which you can select from the Admin portal (see step 3 as an example) - No code required!

Chat sessions will now remain active as your user navigates across your site! With Version 4, the chat is now active for 7 seconds to allow the user to navigate to another page or refresh the existing page without losing the chat session. When refreshing the site or visiting another page, the Contivio chat plugin will look for evidence of ongoing chat session then re-establishes connection with the chat server enabling the user to continue on with the conversation.

Introduced new chat integration code samples to allow your web developer to incorporate the Contivio chat within your website in either iframe or separate window.

Included integration sample code to allow your web developer to detect if the customer is using a cell phone and open a full chat window, which is the recommended integration mode for small screens.

Fixed an issue related to chat not accepting customization when used with Internet Explorer version 11 and Chrome 61.0.3163.100 on Apple IOS 10.0.3

New API functions were added to allow you to:

Customize the Question field label and default text on the Chat Query page (step 1)

Set the Waiting page image (step 2)

Set the Thank You page image (step 4)

Include a "Send" button to the customer chat console, enabling the "Enter" key to be used to insert new lines (step 3).

Customize the time stamp (displayed with or without seconds) in the chat conversion. You can also remove the time stamp altogether (step 3).

Customize the "End Chat" button.
All of the new features can be referenced in our new API Integration Guide. Please contact us for a copy of the new guide at support@contivio.com.

Again, please feel free to reach out to us at sales@contivio.com if any questions arise.

Happy Chatting!