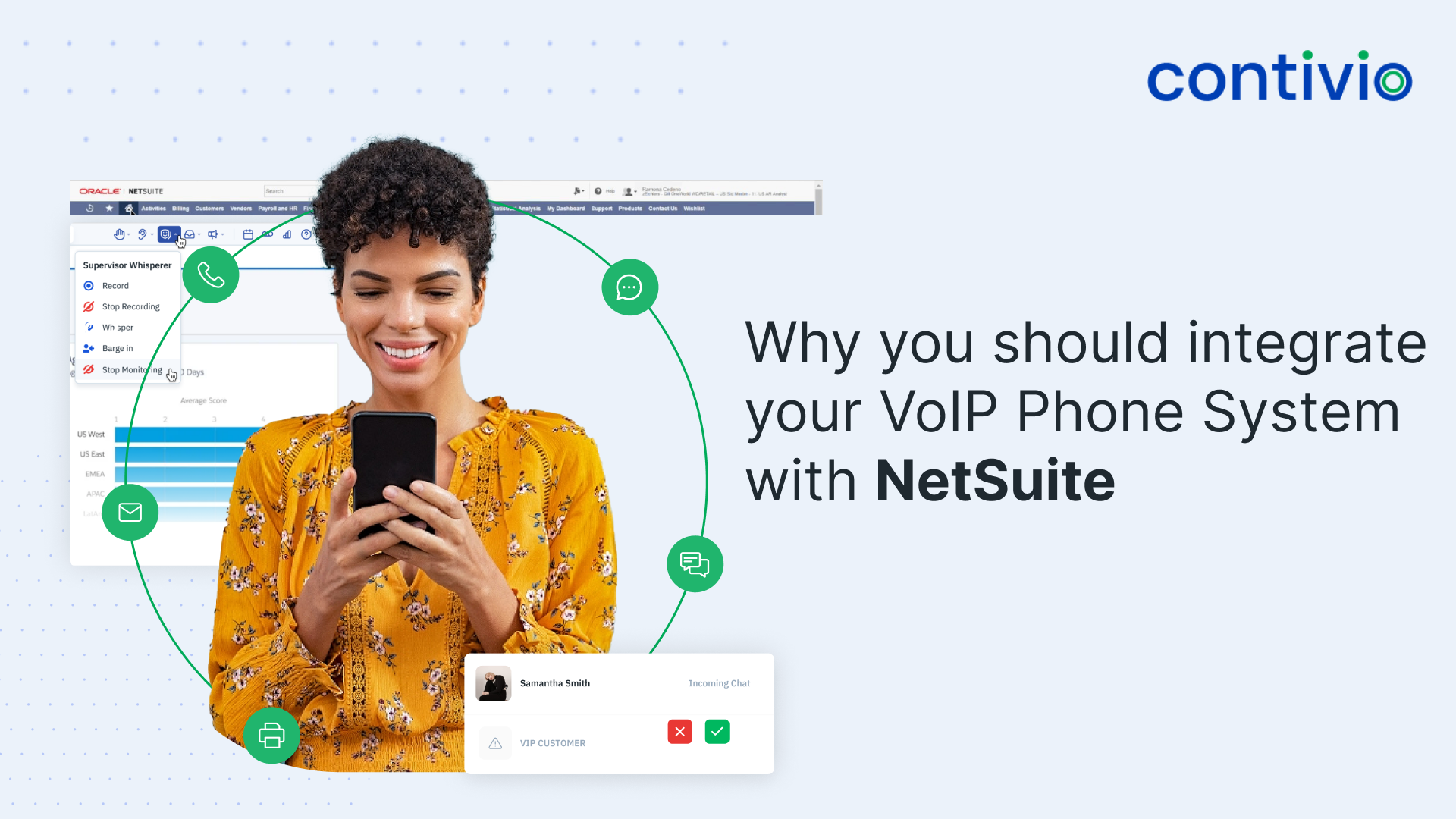 NetSuite is arguably the #1 ERP in the world and one of the best ways to track an immense amount of customer data.
Now I want you to envisage taking your integrated data from all your customer interactions and plugging it into your NetSuite environment. This marriage of indispensable data would be staggering and could help drastically improve customer satisfaction and streamline the lead-to-cash cycle.
In this article, we'll look at how Contivio's NetSuite VoIP Integration can transform your business and lead to more efficient operations overall.
Top ways NetSuite VoIP Integration will strengthen your business
Increased Sales
When you're able to integrate your phone system data into NetSuite, you're going to have a better understanding of this data and in turn, streamline your lead-to-cash cycle.
Automation
Automate the manual entry of call logs, placing phone calls, and tracking call data to save agents countless hours.
Improved customer service
Improve customer service with dynamic screen pop-ups that display all customer information from inbound media across multiple channels (i.e., voice, live chat, SMS).
Improved Visibility
Build out CRM dashboards to get a proper view of all historical data, without the involvement of spreadsheets and manipulation of figures for a true 360-degree view.
Keep in mind these were just a few of the many benefits of a NetSuite VoIP integration. We've recognized the value NetSuite brings to the table hence why we partnered with them to build Contivio for NetSuite.
Contivio's NetSuite VoIP integration
Let's dive into how Contivio's NetSuite VoIP Integration can streamline your workflow.
Native Screen Popping Across All Channels
Dynamically launch the most relevant customer record, account, or case in NetSuite based on an inbound and/or outbound communication channel.
Web to Lead Campaigns
When a web form is submitted from your website automatically create a new lead in NetSuite and dial them immediately to catch them while they're most engaged.
Automated Power Dialing
Run individual and team dialer campaigns from NetSuite lists. Teams can run a predictive dialer whereby, multiple numbers are dialed simultaneously or leverage a preview dialer where agents have previewed the customer's information, prior to calls being dialed.
Click to Dial
Quickly trigger sales and support calls from NetSuite, with the click of a mouse. This will help you save time by not having to switch between the two platforms and will keep all your communications in one centralized location.
SMS
Contact Center Agents may send & receive SMS/MMS messages with screen-popping capabilities, and all texts auto-synced to NetSuite.
Live Chat
Chat requests from your website will be routed to the most qualified agent using adaptive routing options such as skills or CRM assignments, coupled with screen pops to follow.
Trigger Scheduled Calls
All calls scheduled in NetSuite will appear within the Contivio toolbar. Contivio will automatically dial the call when it's the right time or will queue up the call if the rep is busy.
Automated PCI Compliance
Automatically mask credit card details collected over voice and live chat conversations stored in NetSuite.
Debtors-Basket Routing
Run dialer and broadcast campaigns in real-time as debtors reach "past due" thresholds (e.g., 30 days, 60 days, etc.)
Make the Switch
If you're already utilizing our NetSuite VoIP integration, then be sure you're cashing in on all the above features that will simplify your work life. And if you're not yet using the integration, there's no better time than now to make the switch.
Keep in mind these were just a subset of our enterprise call center suite. For deeper insights into channels, routing capabilities, reporting, and CRM integrations please contact us at 1-800-282-8105 or feel free to book a demo by clicking on the link below.
---
About Contivio: The leading Cloud Contact Center & Telephony solution for your CRM. As a multi-channel contact center provider, Contivio acts as the conduit between the customer and agent to transform your CRM into a fully-fledged call center coupled with IVR, ACD, and CTI.