Contivio is a long-standing SuiteApp developed specifically for NetSuite CRM/ERP users. NetSuite allows SDN certified partners to integrate their software to extend the core functionality of your NetSuite CRM/ERP. The SuiteApp Contivio is an enterprise contact center software developed for NetSuite to drive inbound and outbound communication across multiple channels (e.g., voice, live chat, email, SMS, and fax).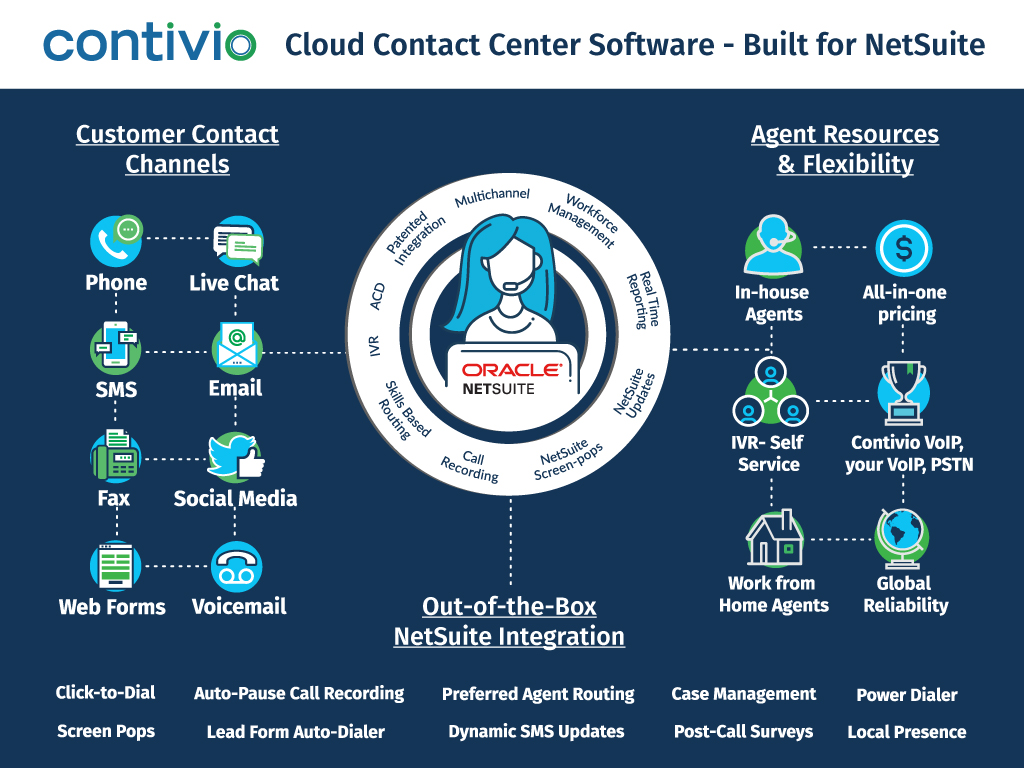 By integrating the SuiteApp Contivio into your NetSuite CRM, you will be able to extend the power of NetSuite with our omnichannel cloud contact center software. Using advanced NetSuite integration, Contivio improves your customer service by routing customers to your most qualified reps, screen- popping relevant customer information, and storing all notes, dispositions, and recordings in NetSuite automatically. Contivio automates all of your agent's workflows, saving them several minutes per call, and allowing them to focus on what they do best: helping your customers.
The SuiteApp Contivio continues to be a top rated NetSuite omnichannel integration, with reviews including:
"We launched Contivio with 100+ Sales/Support reps in a few locations throughout San Diego. We had a failed implementation a year prior with another solution provider, and Contivio came in and fixed a disaster. We now have real-time automation on outbound dialer campaigns, variations of different inbound screen pops (e.g., customer records, leads, cases), and have live chat running on our site." - Mitch West, Cali Bamboo

"We have inside sales and customer service teams that have been using Contivio for the past several months. Everyone was super nervous as we left Salesforce and our old partner, InsideSales.com. However, both teams are thrilled with Contivio and say that things are better than they ever were with Salesforce. The implementation team was great, and things went smoothly. Contivio has been great to work with and cares about your success with the product. Highly recommended."

"Contivio has been an extremely flexible Contact Center and has allowed us to optimize our inbound and outbound call center experience. As our business has evolved, Contivio's team has helped us design and implement multiple revisions to our IVR, which have let us keep up with new demands and improve customer satisfaction. The support team at Contivio is extremely responsive and (IMO) unmatched in the industry."
NetSuite users who have integrated the SuiteApp Contivio into their NetSuite environment are exceedingly happy with their choice. Click here to read more reviews about the SuiteApp Contivio for NetSuite.
The Contivio system seamlessly integrates into your NetSuite environment and offers the following key features for your organization:
Improve customer satisfaction by routing your customers to the right rep at the right time.
Close deals faster with automatic lead dialing and power dialing through NetSuite.
Decrease staff turnover and retain skilled employees by automating tedious agent tasks.
Lower agent training costs with easy-to-use software, call recording and monitoring, and agent call scripts.
Reduce contact center operating costs with all-inclusive, concurrent user pricing and increased agent efficiency.
Curious to learn more about how the SuiteApp Contivio can extend your NetSuite investment? Watch this short demo video to see how Contivio is able to shorten sales cycles and improve overall customer service:
Ready to get started? Click here to learn more about the SuiteApp Contivio or contact us today to for a personalized demo to see how the SuiteApp Contivio will enable your team to do more.