Since NetSuite Case Management goes hand-in-hand with customer service & support, Contivio has developed seamless integration with cases across all channels - including phone.
Many of our clients have an option in their IVR to reach customer service. With Contivio, it's a best practice to give the caller a choice to either:
Report a new support issue, i.e. create a new case.
Check in on an existing issue, i.e. look up an existing case.
When the rep is offered the call, he or she will get a NetSuite screen pop with either a new case (if the user selected option 1), or an existing case record (if the user selected option 2).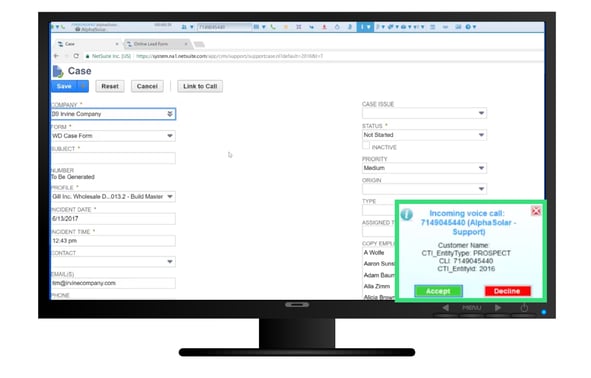 Contivio can also add specific routing rules so that the caller is routed to the agent that was assigned to the case, or the customer's dedicated Sales rep in NetSuite. After the call ends, you can configure Contivio to automatically push notes, dispositions and call recording URLs within NetSuite as an activity attached to the case or customer record - so you can reference it in the future.
In addition to screen popping and routing, Contivio also has IVR self-servicing capabilities. This means that Contivio can reference NetSuite to feed information back to the customer, without any agent involvement. For example, if the customer presses "2" for an existing case, the IVR can prompt them for their case # and return the latest status (i.e. Escalated, Completed, In-Progress). From there, if the customer wants to speak to the representative anyway, all they would need to do is stay on the line. When the rep gets offered the call, they'll have the case screen pop for quick review.
Learn how our other channels integrate with NetSuite cases: