Contivio is designed to extend the functionality of your CRM to give your team the tools it needs to drive efficiencies and improve customer experience. Contivio is the leading CRM phone system integration, because our system seamlessly integrates with your CRM system and provides a top-notch contact center platform for your agents.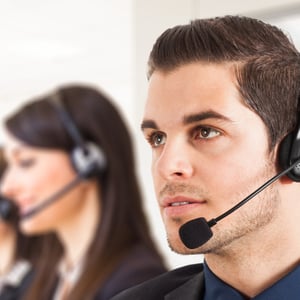 Contivio offers many features, tools, and functionalities that users love, because they reduce the latency between tasks and make the agent's job easier. In this blog, we're covering three Contivio tricks your team might not know about but will surely love!
Contacts Search
In case you didn't know, Contivio stores all data about each interaction in your dashboard. For example, if you have an upset customer who wants to speak with a supervisor, you will want to know exactly what happened, right? Maybe there was a contact who claimed they waited for 20 minutes to speak with an agent and the administrator wants to know what time this interaction took place so they can ensure that they are properly staffed. Or if the supervisor needs to go back and listen to the conversation, rather than just reading the notes from the call, the "Contacts" search will lay out every minute detail for all interactions to and from the Contivio Contact Center.
In the Contacts Search (located under your Call Center > Contacts), Contivio describes every single piece of the interaction, such as who it was routed to before an agent answered. The Contacts search can also describe which agents are declining calls, or letting interactions ring through the offer timeout.
Composite Reports
If your team utilizes a certain set of reports each month or week, why not set those reports to automatically run and be emailed right to you? Easy as that!
As your CRM phone system integration, we've made this capability easy to use so you and your colleagues have the data you need, right when you need it. Composite Reports can be scheduled and sent automatically to the users you set, via email. Using Composite Reports, administrators may add one or many email recipients, and send either one report or several reports combined into one.
To create a Composite Report, you must first create Call Center, Queue, Campaign, Team, or Agent reports. Make sure each one is named and labeled properly so you will be able to recognize it when selecting the reports to be composited. Keep in mind that each report time span must match the report span of the Composite Report, otherwise, it will not appear. You can choose to schedule reports to be sent daily, weekly or monthly:
Daily - The Composite Report is generated and emails are sent at 12:00 am of the time zone of the contact center to include data for the previous day.
Weekly - The Composite Report is generated and emails are sent on Sunday at 12:00 am of the time zone of the contact center to include data for the previous week (Sunday to Saturday).
Monthly - The Composite Report is generated and emails are sent on the 1st of the Month at 12:00 am of the time zone of the contact center to include data for the previous month.
If you're not already using this feature, the Composite Reports are a great way to keep your eye on the company's trends and save yourself the time of pulling regular reports.
Automated Data Reports
As a leading CRM phone system integration, Contivio provides a comprehensive, real-time dashboard and historical report generator, but we also realize that some customers want to access their raw data to create custom reports, business analysis, process automation, and custom dashboards that best suit their preferences.
For example, your supervisors might want to receive an alert when your agents are taking long lunch breaks, when you've missed a certain number of calls, or every time an agent selects a "Ship to Customer" disposition.
If you would like to leverage Contivio's data to build your own business processes, or just simply to store the data on your own servers for an extended period of time, there are two different tools to export data automatically: the Real-Time Data Store and the Call Records Exporter.
Real-Time Data Store
The Real-Time Data Store gives you access to your Call Records and Agent Activities in real-time, and the data is updated whenever there is a change in call or agent status. If there is no change to the data (for example, during after-hours or holidays), you might not receive any updates for hours. The benefit of using the Real-Time Data Store is that it provides information on all calls in progress, as well as historical calls. Contivio provides a sample "working" C# web receiver application and MSSQL database schema for receiving and storing data, which you can use as-is or customize if required.
Call Records Exporter
If you would like to automatically export raw Contact data or Agent Activities to an email or web server, we recommend using the Call Records Exporter functionality under Data Extensions > Call Records. Unlike the Real-Time Data Store, developers can use the Call Records Exporter to receive call records and agent data every 10 minutes, 30 minutes, 1 hour, or daily interval. Additionally, keep in mind that the Call Records Exporter exports only completed calls and actions, where the Real-Time Data Store reports on data that are in-progress, as well.
Contivio prides ourselves on being a preferred CRM phone system integration, and we want nothing more than for you to have the tools you and your teams need in order to be successful. If you need help learning how to use any of these Contivio features, please reach out to us at sales@contivio.com to get started.
If you're looking for a CRM phone system integration for your team, please schedule a free demo to learn more about the Contivio platform and the many other features and tools we offer.