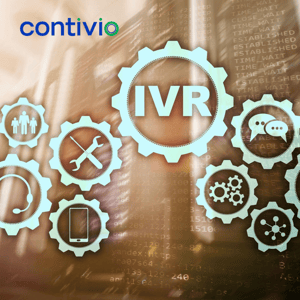 In our last blog, we detailed what an IVR system is and how it's beneficial for both your customers and your clients alike. We're back to talk more about other things you can accomplish by investing in an IVR system for your company.
Contivio is an all-in-one telephony system that integrates directly into your existing CRM platform. Not only does the Contivio system manage all of your inbound and outbound communications, live chat, reporting, and more, but it also allows you to set up a custom IVR system for your customers that is unique to your company's workflow and client needs. The options are endless, but IVR can be set up to communicate the following with your customers:
Position in Queue: By allowing customers to hear their position in the queue, they will have an idea of how many callers are waiting ahead of them. This can help them decide whether they want to stay on the line or call back at another time.


Expected Wait Time: This option informs the caller of the estimated amount of time they will be on hold before an agent can answer them. This estimation can be derived by average call times your agent spends on the phone with each person and the number of people in front of this caller. Having this information is helpful for customers, as it helps set realistic expectations about how long they will need to wait.
Queue Callback: With Contivio, you can also include an option to play a prompt while a caller is on hold in the queue, allowing them to select an option to be called back when the next agent becomes available. The agent will then be offered the call, and then dial outbound to the caller. This keeps people from waiting on hold and improves their overall experience.
Investing in an IVR system is a smart move for businesses that have frequent callers. It improves customer experience and increases your team's efficiency.
Contivio offers a suite of different features that can be included in your IVR system. Contivio's IVR system enables you to:
Broadcast messages in the IVR using text-to-speech, and upload your own music to the IVR menu to play while your customer is on hold or transferred.
Allow inbound callers to reach specific agents by inputting the agent's extension number into the IVR.
Send the call-back number after a call concludes to the IVR for a post-call satisfaction survey. You can also choose to send out a survey via SMS after a call, or as a broadcast message to many users at once.
Allow customers to easily type in their case ID or sales order number in the IVR, and Contivio will read them their latest status from the CRM. Customers can stay on the line to speak to a representative.
Ready to give your customers a better experience with Contivo's IVR system? Click here for a free demo, and don't hesitate to contact us with any questions.