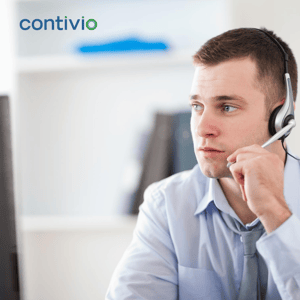 Contivio – the leading CRM phone integrated solution on the market – is here to help you drive efficiency
and
customer experience by giving your agents the telephony tools they need. Contivio seamlessly integrates right into your existing CRM, extending your investment and allowing your teams to do more.
Contivio is an all-in-one cloud contact center and telephony solution that can be native right in your CRM of choice (e.g., NetSuite, Salesforce, Microsoft, Sugar). Contivio has all the features you need for a complete contact center, including inbound and outbound communication channels, CRM-powered dialer, live chat capabilities, and a complete integration into your CRM. With Contivio, agents don't have to toggle between apps or waste time doing mundane tasks by hand. The system reduces downtime and drives efficiency by automating many of the communication tasks that are common in sales, customer service, and financial departments.
There's a reason that Contivio is the number-one choice for CRM phone integration. A few of our most popular features include:
Scheduled Calls – If your agent makes a plan to follow up with a customer or lead at a designated time in the future, the agent can set up a scheduled call in their Contivio dashboard, and the system will automatically trigger a call at the specified time. Notes will also pop up for the call so the agent has all the pertinent information on hand. Never lose another sale or client connection because of a missed appointment with the Contivio system!


Click to Dial – By simply clicking a button right in your CRM environment, Contivio will trigger your agent's phone to automatically dial the customer without having to remember the number or type it in manually. This saves your agents time looking up and keying in phone numbers, which helps drive efficiency and keep your agents on the phone.


Reporting – Contivio has many powerful reporting capabilities that allow managers to have insight into everything from agent activity to customer experience, and more. As a manager, you also have access to all call recordings saved on the cloud to use in training and monitor progress. And for your agents, there are note-taking capabilities from Contivio integrated seamlessly into your CRM that allow your team to keep track of important information and better serve your clients.


Power Dialing – With our power dialing feature, your agents can contact lists of people in your CRM in a quick and efficient way. Contivio will trigger calls one after another from the list you designate. This keeps your agents on track and able to reach more people without taking the time to find client records or phone numbers manually.


Remote Workers – And of course, with many companies transitioning to having some off-site workers, Contivio is the perfect telephony solution for remote workers. Request a demo to learn more about how Contivio can work for your team.


And so much more! Click here to see all the features Contivio offers.
Ready to learn more about the Contivio CRM phone integration solution? Click here to schedule a free demo. And don't hesitate to contact us if you have any questions. We look forward to being your CRM phone integration partner to help you drive efficiency and improve customer experience.