Contivio is designed to seamlessly integrate into your NetSuite environment to give you and your agents the tools and functionality needed to shorten sales cycles and improve overall customer service. A feature you may not know about is the Link-to-Call.
When a customer engages with your call center regardless of channel (e.g., voice, chat, email), Contivio will screen pop customer records, cases or transactions within your NetSuite instance. At t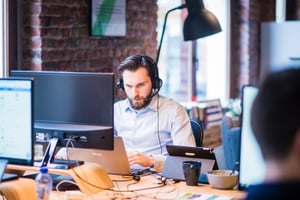 he end of the engagement an activity record will auto-push to NetSuite with notes, disposition codes, queue assignments and call recordings. By default this will match on either the phone number, email address or digit collected in the IVR. But what happens if the client reaches out with an unrecognized caller ID or account?
Using Contivio Link-to-Call agents will have the autonomy of pulling up any appropriate record manually and hitting the customer button added to NetSuite. This will ensure a record is automatically added to your CRM.
For example, if a client usually calls your center from their office phone, but today they are calling from their cell phone because they are on a company trip, the Link-to-Call functionality allows your agents to ensure that interaction stores against the correct NetSuite record.
When a client calls in on a new phone number, the agent can search for the existing record – lead, contact, case, and so forth. Once the record has been located, he or she can select the "Edit" menu in the Contivio system, and then click the "Link-to-Call" button. See the "Link-to-Call" button outlined in red below:

Customers call from different numbers all the time for various reasons. They are traveling, they call from different departments in their company, or they simply have changed numbers. This functionality allows you to ensure all interactions log in the CRM. Just keep in mind this is not required when screen pops find a matching record at the start of the call, chat or email.
The benefits of using the Link-to-Call feature include:
Time Savings: By using the Link-to-Call feature, the data collected on the current call will automatically be included in the existing client record. This saves time because your agents will not have to enter the data manually after the call; they can just move right along to the next customer interaction.
Data Retention: By easily linking the current call to an existing client record, your team will do a better job of capturing all the client's information in one spot. No data will be lost or mishandled this way.
Better Customer Experience: By adequately capturing all of the client data and interaction information in one location, agents will be better equipped to provide customers with a great experience. The agents will not spend time looking for client records and will have all of the pertinent information at their fingertips.
If your team is not currently utilizing the feature in the Contivio system, it's time to give it a try! Contact Contivio sales for a demo.
Contivio is one of the the top rated Call Center software for NetSuite, allowing you to extend the core functionality of your CRM investment. Click here to learn more about the many features Contivo offers, and sign up for a free demo here. If you have any questions, feel free to reach out to Contivio at sales@contivio.com.