Support, services, and sales teams use and interact with a wide range of sophisticated solutions each day, thereby, requiring a contact center user interface to be user friendly, intuitive, and obvious. With the rapid pace of software development and advancement, business communications are expected to be conducted much faster than ever before. Organizations expect more human interactions to be performed with better turnover and results, such as:
Better first contact center resolution rate

Lower contact center handling times

Increased contact center conversation rate
Traditionally, support, services and sales teams deployed many software applications to meet their own communication needs and company's objectives, none of which were cross-functional. The contact center user interface not only needs to consolidate their range of requirements into one unified, cross-functional solution, but needs to conform to the way users and business processes will work, as well as integrate seamlessly with other important applications, like the CRM.
How to choose the Best Contact Center User Interface
There are a number of key factors to consider when selecting the best contact center user interface. There is a paradigm shift in consumer and organizational behavior that must be addressed. Users and organizations alike want a contact center interface that:
Standardizes contact center technology across all business units – support, services, sales, and marketing

Consolidates all channels of communication

Speaks to the CRM so no information is lost
Two crucial elements of a contact center user interface are the contact center user experience and the contact center CRM integration. The user experience drives standardization of technology and user adoption through ease-of-use and intuitive navigation. Contact center CRM integration enforces adherence to business processes and data collection for more accurate information.
Contact Center User Experience
There is a paradigm shift in consumer behavior where consumers are turning towards alternative forms of communication rather than voice. Chat, email and SMS are the most popular trends, with social lagging not far behind (still lacks infrastructure). It is important your contact center user interface supports multiple media channels through one application interface. Whether it is support, services, or sales teams, the contact center user experience must support their varied workflow for all communication channels.
Further, navigating the contact center interface must be intuitive and obvious to drive change management. By consolidating media and functionality from multiple systems into a single, easy-to-navigate user interface such as a contact center toolbar, immediate access to all information and tools is at the user's fingertips. Deploying a contact center toolbar to sit on top of your CRM, reduces almost all navigational noise and toggling between other redundant or unnecessary applications.
Contact Center CRM Integration
With the surge of cloud software and the importance of information, contact center CRM integration is another very important consideration. Making sure your support, services and sales teams have at their immediate disposal the information they need to provide the best customer or prospect experience is essential in today's competitive markets.
Improving the contact center user interface does not always require modifying the desktop or software. Often you can accomplish your performance improvement goals by simply automating manual tasks inside an application (or across multiple applications), and/or automating navigation during workflows so users do not have to manually click through unneeded screens and fields. By enabling users to move through processes more quickly, you improve the quality of service and also gain better control over processes. Screen popping is a critical element of CRM integration which meets all of these goals. With targeted screen popping integration using Contivio.com's CloudConnect, an organization will minimize errors and improve procedural compliance, such as data gathering.
A multi-channel, cloud-based contact center user interface saves time, money, and makes support, services, and sales teams more productive during human interactions, directly influencing customer and prospect satisfaction. By simply providing the best available contact center user experience and contact center CRM integration, an organization will improve productivity and quality of service.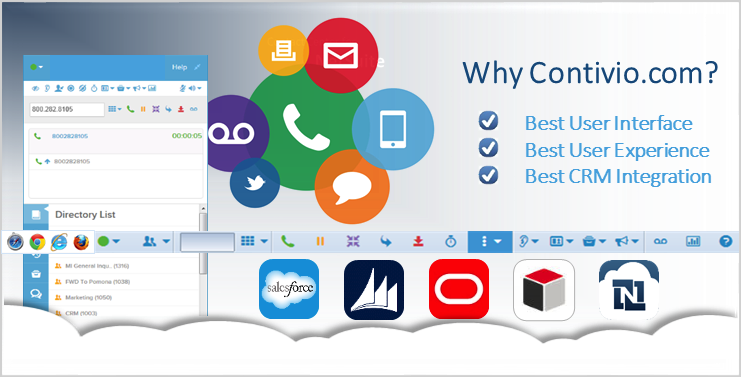 For a complete list of user-friendly contact center features, please review our full feature list or book a demo with our Sales team.