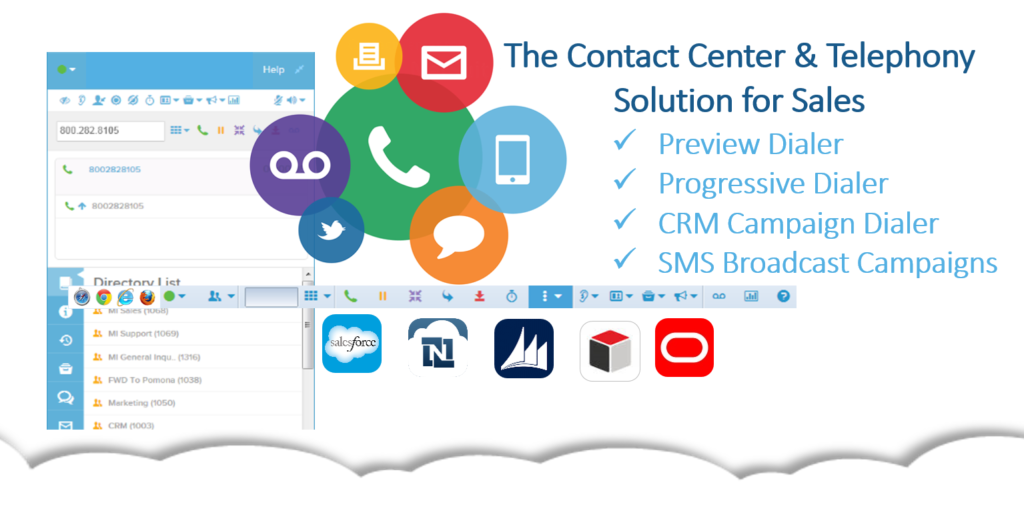 Deployed by teams globally, Contivio's outbound contact center features help increase sales efficiency – directly from the CRM. Simply create a CRM saved search, and launch preview or progressive campaigns in seconds!
Outbound Campaign Features
Preview Auto Dialer

– Agents preview the available information about the customer via screen pop and decide when/if to place the call (i.e., the auto dialer will not place the outbound call until the agent accepts).
Local Presence

– Map outbound caller ID to local area code of CRM triggered call.
Predictive Auto Dialer

– Mode used to call a large number of customers within a short period of time. Predictive dialing optimizes the time of Agents by reducing the idle times between connected calls and freeing Agents from dialing calls.
Progressive/Power Auto Dialer

– Places calls only when an Agent is available to handle the call.
IVR/Voice Broadcasting

– The ability to deliver unique messages and notifications for your Call Campaign without having to speak to a customer.
Automatic Call Back

– The ability for a caller on hold to request a call back at a later time.
SMS Campaigns

– Launch outbound SMS campaigns direct from your CRM.
Web Form Integration

– Launch outbound campaigns when web forms create CRM leads.
Campaign Management
Campaign Management

– Upload call lists and view the current status of any outbound campaign, activity history, performance, agent statistics, and call attempts.
Abandon Rate Setting

– Auto dialer settings allow you to dictate the percentage of inbound phone calls that are abandoned by the customer before speaking to an agent.
Dialer Speed

– Manage the number of concurrent calls placed per agent during a campaign.
Call Recording

– The ability to record calls by specific campaign, agent and on demand.
Dynamic Caller ID

– Allows you to present any phone number as your Outbound Caller ID to add a more personal touch to your call.
Dial Control

– Create routing policies to block specific numbers or areas where, for example, calls may incur additional toll charges.
DNC Compliance

– Contacts added to the "Do-Not-Call" compliance list will not be included in any Outbound Call Campaign.
CRM Dialer

– Starts and Stop your dialer campaigns directly from the CRM.
Outbound Computer Telephony Integration (CTI)
CRM Click-to-Dial

– If you don't have click-to-dial in your CRM, you're not integrated. Place an outbound call from any CRM record by a simple click of your mouse.
CRM Screen Popping

– Automatic launching of an application based on an inbound and/or outbound communication channel – such as Voice, Voicemail, Social, Email, SMS, Fax and/or Chat.
CRM Creation

– A sales lead record will be created automatically when an outbound campaign call is triggered.
CRM Updates

– Post-media data will be pushed and stored within the CRM as a record activity (e.g., call recordings, call dispositions and notes).
Outbound Multi-Channel Communications
It's important for an outbound contact center to support all communication channels with customers. First and foremost, it's beneficial to use an
omnichannel contact center
to get access to holistic reporting. Additionally, consolidating with one tool avoids the confusion that comes with multiple platforms, and empowers agents to get up and running more quickly. Below are the main channels that your outbound contact center should support:
Voice

– Traditional mode of outbound calling for contact centers, sales teams, and telemarketers, but with the added benefit of screen popping.
SMS

– Contact center Agents may send Outbound SMS messages - ideally through the CRM.
Email

– Contact center Agents may send Outbound Email messages, customizing each message by leveraging screen pops.
Fax

– Contact center Agents and Reps may send Faxes
Voicemail

– Automatically broadcast a voicemail message to a campaign list rather than spend consuming hours talking to customers…great for marketing promotions.
For a complete list of outbound contact center features, please review our full feature list or book a demo with our Sales team.