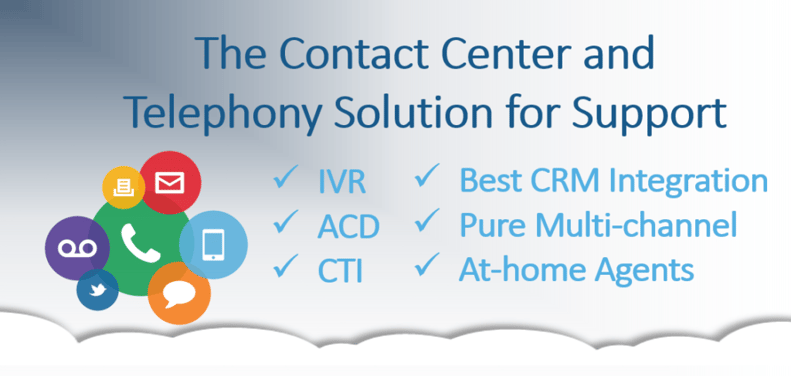 Deliver a truly superior inbound contact center experience to your customers. Leverage Contivio's IVR, ACD and CTI technologies to send calls and chats to the most skilled and qualified reps the first time! It is time to start closing tickets faster, and revolutionizing your customer touch points.
Leading CRM Integration (CTI)
Manage all incoming communication & media traffic with comprehensive contact center inbound features – Voice, Voicemail, Fax, SMS, Email, Chat and – using our patented toolbar. Integrate your Contivio.com Contact Center with industry leading CRMs, Case Management and ticketing systems, without the hassle of purchasing expensive third-party hardware.
CRM Click-to-Dial

– Trigger outbound calls from your CRM, or website-based pages.
Dialer Campaigns

– Run preview and progressive Dialer campaigns direct from CRM.
SMS Campaigns

– Launch SMS campaigns from CRM saved searches.
Web-Form Integration

– New CRM leads will trigger immediate outbound calls.
CRM Screen Popping

– Screen pop CRM records, and dynamically log media activities.
CRM Creation

– A sales lead record will be created automatically when a new lead comes in.
CRM Updates

– Post-media data will be pushed and stored within the CRM as a record activity .
CRM Automation

– As a caller reaches the IVR, Contivio.com will search within the CRM to identify if the customer has any outstanding invoices, if so the call can be automatically routed to billing.
Interactive Voice Response (IVR) Auto Attendant
Contivio.com's easy-to-use IVR technology eliminates the hassle of proprietary legacy premise systems, enabling you to provide a tailored self-service experience and, when needed, a seamless transition to a live agent.
Digit Collection

– Customers can input digits, queue options and extension numbers to media route seamlessly to appropriate agents.
Dynamic Call Routing

– Recognizes and reacts to the specifics of an incoming call and routes it according to your requirements.
Call Alerts

– Email reps calls waiting in the queue. Simply select answer from an email, and take calls from anywhere.
Dial by Extension

– Inbound Callers can reach specific Agents by inputting the Agent's extension number.
Company Directory

– Ability to locate specific Agents by accessing the internal company directory.
Post-Call Survey

– After a call concludes, you have the ability to send that call back to the IVR for a post call satisfaction survey.
CRM VIP Lookup

– Route VIP customers to the front of the queue.
Queue Statistics

– The ability to track live Queue statistics (e.g., calls waiting).
Virtual Hold

– Customers can leave their number in the queue, and receive a callback vs waiting on hold.
Agent & Queue Music On Hold

– When calls are placed on hold or transferred music will play for the caller.
CRM Updater

– Media data such as call recordings, notes, live-chat log will be captured, and pushed as CRM activities.
Automatic Call Distribution (ACD)
Contivio.com's ACD platform routes media based on customer configured rules, this includes queues participation, skills required, competency in handling the type of call or chat, preference of particular agents or subset of agents, workforce management rules such as agents working on particular shift, time of day and holiday rules and sharing the call loads among agents.
ACD

– Routes incoming media based on CRM record ownership, staff skills, area codes and priorities .
Skills-based Routing

– Assign incoming communication traffic to the most skilled and knowledgeable Agent.
Queue Priority Routing

– Determines which communication in the queue, based on priority, should be delivered to an Agent when an Agent becomes available.
CRM Record Owner Routing

– Inbound communication traffic routed based on the CRM record owner or the last engaged Agent.
Schedule & Shift Routing

– Routing communications based upon time of day task assignments.
Operating Hours Routing

– Route communications by predetermined business hours.
Holiday Routing

– Route communications according to company-observed, national holidays, especially to another international contact center.
Service Level Agreement (SLA) Routing

– Define routing policies around SLA waiting times.
Call Notification

– Triggers an email for an unanswered incoming call or chat to a remote Agent with an option to pick-up from a remote phone.
For a complete list of inbound contact center features, please review our full feature list or book a demo with our Sales team.