Here at Contivio we've found that Contact Center CRM integration leads to the best customer service and fastest lead conversion. This is why it's key for growing businesses to choose a Contact Center and Telephony Solution that has a robust set of CRM integration features.
Today, with advanced business intelligence tools, organizations can now track and understand the exact value of each customer & prospect interaction. However, even though the data is available, it can be overwhelming to sort through it and ensure it's all up to date. Due to that, it's increasingly becoming more important for Support, Sales, Services, and Marketing teams to have an established contact center with CRM integration that is user-friendly, scalable and automated.
Contivio's patented CRM integration technology, CloudConnect, differs from most Contact Center solutions because it puts the integration capabilities into the hands of the end user instead of a developer. Within minutes, Contivio's CloudConnect technology integrates the Contact Center (including the phone system, live chat, SMS, email, fax, etc.) with industry leading CRMs, such as Salesforce, NetSuite, Microsoft Dynamics, SugarCRM, and more, to seamlessly connect the dots between company representatives and customers. Our clients and other companies who have made the switch to a Contact Center with CRM integration have experienced positive results such as:
Improved customer satisfaction

Faster lead generation and conversion

Increased user productivity and operational efficiency

Better visibility into data and KPIs
In this blog post, we'll explore the most important CRM integration features that will set your Contact Center up for success.
What are the Best Contact Center CRM Integration features?
There are a number of key factors to consider when evaluating the best contact center CRM integration for you. Traditionally, Support, Services, Marketing and Sales teams deployed many software applications to meet their own communication needs and company's objectives, none of which were cross-functional. An integrated contact center goes beyond the pulling and pushing of data, as it consolidates the range of business unit requirements into one unified, cross-functional solution, thereby conforming to the way users and business processes really work. The fundamental features you should look for in a Contact Center with true CRM integration are:
Out-of-the-box integration with no extra code or development needed - no matter how customized your CRM might be.

Seamless toolbar, app or console that maximizes your CRM's screen real estate so your agents don't need to toggle between the Contact Center and the CRM screens.

Call and Media routing based on the existing data already stored in your CRM (for example, routing based on assigned Sales reps or Account Managers in the CRM).

Configurable screen popping with the ability to pop any screen on a queue by queue basis - including the CRM account, lead, opportunity, case, and contact records.

Click-to-dial functionality for any number within your CRM to make an outbound call.

Automatic data logs to your CRM, which includes call recordings, call dispositions, call notes, chat logs, email chains, etc.

Trigger activities based on new information provided in the CRM. For example, if a new lead comes in through a lead form, you should have the ability to automatically queue up a call for your best available sales rep.

Integrated outbound campaign management with predictive and preview dialing, broadcasting and survey capabilities.
The 2 features Contivio's customers find to be most beneficial for their Call Centers are Screen Pops and Call Recording, both of which empower your Support, Service, Marketing, and Sales teams to access customer information immediately.
Tip: You can review a more exhaustive list of Contact Center CRM Integration features here.

What is a Screen Pop?
A Call Center "Screen Pop" is a window that automatically "pops" up when a call (or any other media such as a Live Chat) comes in. This window is typically a CRM screen, which displays the most relevant customer information to your agent.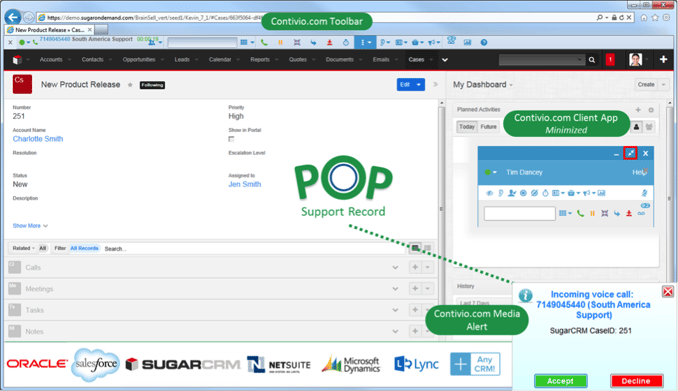 When you're vetting different Contact Center solutions, keep in mind that Contact Center CRM integration should be fast, easy and maintainable for a non-technical end user. Because organizations cannot afford to lose time and money on costly integrations, Screen Pops shouldn't require continual third-party maintenance to update code for every CRM version and customization.
Contivio's Contact Center CRM integration technology, developed by a team of industry experts, comes with an advanced connector that empowers end users to create contact center screen pops within mere minutes, no matter how customized their CRM solution is. In no time, administrators can program CloudConnect to deliver instant screen pops of the exact CRM record and field for their agents to review past activities, take notes, and create follow up reminders. Contivio's technology is also non-prescriptive with the screens that can be popped, and the screens can also vary from queue to queue depending on what the best fit for the team is. For example, if the customer wants to speak to the Support team, it might make the most sense to pop the latest CRM Case. If a new lead calls the Sales team, you may want to pop a new CRM Lead record.
The bottom line is that your cloud contact center and CRM should be seamlessly working together as one application, focusing your agents' attention on what is important – customer satisfaction and prospect engagement. On the topic of seamless integration, the next most important feature for your Contact Center to have is Call Recording CRM integration.
Automatically Storing Call Recordings in your CRM

When you're deciding on which Contact Center solution to choose, be sure to inquire about Call Recording CRM integration. Call Recording is one of the most important capabilities to integrate with your CRM, and the most ideal scenario would be to have your Contact Center automatically include a link to the call recording (or the call recording itself) directly inside your customer's record within your CRM.
Not only is this feature supported by Contivio's Contact Center, Contivio also enables organizations to record and log all other media interactions and communications such as emails, faxes and live chat transcripts.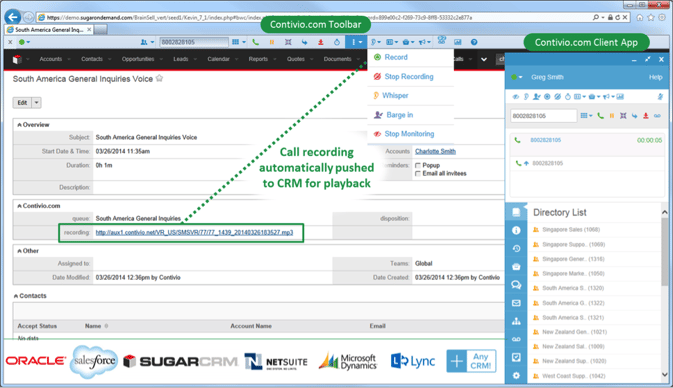 With a complete history of recordings and activity logs, you can generate valuable business insight, as well as ensure your customer interactions are meeting your expectations. By capturing your team's phone, chat, email and SMS communications, Managers and Supervisors can make sure their teams comply with regulations and internal policies, mitigate risk of litigation, monitor quality of service, and leverage recorded calls to gain business insight and train new hires.
Whether your business needs to capture every call or media interaction for regulatory compliance, or track a random sampling for quality management, Contivio's call recording and media logging delivers on all your recording needs. Locating and replaying calls or reading message logs is also quick and easy when your history is stored safely as CRM activity records.