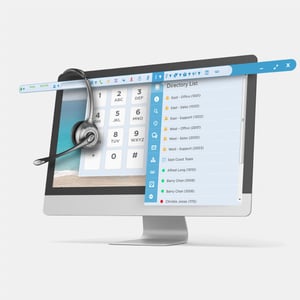 Contivio offers many features and functionality options that set us apart from competitors, but the thing that makes us the most unique is that we've built the entire Contivo system from the ground up, by hand, right here in house. Contivio is a call center and PBX solution that seamlessly integrates with your CRM and allows your team to do more.

Contivio does not white-label any solutions (e.g., broadsoft switches), nor is our system built on the top of any third-party vendors. This is the Contivio difference. All of our channels, features, and solutions are natively designed to work seamlessly with one another - including all real-time and historical reports, unlike products like Zendesk Chat & Talk. You never have to worry about your teams or products struggling to talk to one another, and all functions are designed to complement each other. Your teams and solutions will never be siloed from one another in the Contivio environment.

Contivio is a Cloud Contact Center solution with CRM integration unlike any other. The benefits of the home-built Contivio system include:

Seamless Integration: The entire Contivio system has been built and maintained in house, which allows us to drive a reliable CRM telephony integration like no other. We control all aspects of our system and can configure it in a way that not only works but also is designed to be exactly what your team needs.
Global Reliability: Since we've built every part of our system, from chat to IVR, we can say with great certainty that our platform offers industry-leading uptime and global reliability you can count on.

Scalability: With Contivo, you're in charge of your destiny and have complete control of the features and functions. As your team grows, our system will grow right along with you, avoiding roadblocks and frustrations that come with other products that are not all seamlessly integrated into one system.

Ease of Reporting: As the Contivio system – all features, functions, and users – is housed in one home-built platform for the entire company, you can enjoy the ease of reporting that's native to our system. You can pull reports across departments, teams, and media channels without struggling to source data from multiple locations or platforms.

User Management: All users in the Contivio system are managed centrally, which means that it is very easy to change roles and permissions for your team.
Efficiency: Contivio is a proven CRM telephony integration, driving efficiency, and ease of use for teams across the globe. This allows you to provide a better customer experience and drive sales.

The Contivio system has been built from the ground up to provide the CRM telephony integration your team needs. We're the leading omnichannel (Voice, Live Chat, SMS, Email, Fax, Social) contact center and PBX solution for CRM.

Utilizing a platform that has been built entirely in house from the ground up will ensure that your team has the tools to do their job when they need it and how they need it. Click here to learn more about the Contivio telephony integration system and request a free demo.