Businesses around the world have had to adapt quickly to remote work, which for some has unfortunately meant a reduction in customer experience and satisfaction. With the Contivio call center software solution, you can have remote workers AND have all the tools you need to ensure that your agents are giving customers the best experience possible. In this blog, we're going to cover the quality assurance and supervisor tools that are built natively into the Contivio system and how to use them to help your team perform at its best.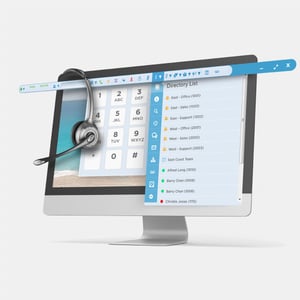 As a manager, you have in-depth insight to know exactly how your team is performing, no
matter where they are working. In your admin panel, you have the tools to see exactly who is on calls, and with whom. You can see their call logs and their overall satisfaction rating. You can also hear recordings of any past calls to see what transpired during the call.
The Contivio call center software system has three features available to managers that allow you to coach and manage your team in real time. The Contivio call center software platform has the following features for managers:
Live Call Monitoring – From your supervisor application, you can join any call that your agents are currently on without either the agent or the customer knowing. This allows you to get insight into how your agents are performing and how customers are behaving. This is a great way to ensure that all your agents are maintaining excellent customer service, even if they are working offsite.
Whisper – While listening in on an agent's call, you can utilize the Whisper feature to coach your agents and help them navigate a call, without the customer ever knowing. The Whisper feature allows you to communicate directly with the agent, while he or she is on the call, but the customer cannot hear what you are saying. With this feature, you can help new agents learn the ropes, train agents to close more sales, and help diffuse difficult situations. You can ask agents to slow down, speak up, or answer a question in a particular way, for instance. Many managers find this an effective way to train agents, even if they aren't working in the office.
Barge-In – As the name suggests, as a manager you can barge into any call to take over from the agent. If the call is going poorly or the agent is unable to handle the call, you can barge in and take over from there. This feature is only to be used in the most serious of cases, but it is an option if need be.
Contivio is committed to being the top call center software solution on the market for businesses of all sizes. No matter whether your agents are working in the office, or remotely – we're committed to giving you the tools you need to ensure that your teams are providing your customers with top-notch customer service.
Click here to learn more about all of the Contivo features. Schedule a free demo today!