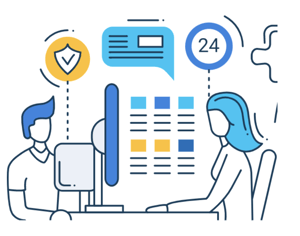 Has your company or organization had to quickly change operations in light of the COVID-19 outbreak? Many businesses are quickly pivoting to allow agents to work remotely. And many of these businesses have found that their current phone system is simply not equipped to handle large portions of the team working remotely. If your organization is struggling with a work-from-home concept, Contivio is here to help. We offer one of the best phone systems for remote workers that can work right alongside your existing phone system while being quickly deployed to your remote workers to give them the tools they need to be successful at home.

You don't have to worry about transferring your entire company to a new phone system. Instead, we can configure a side-by-side approach that moves your remote Call Center staff to the Contivio platform while keeping the office PBX staff on your existing phone system. This will allow your remote workers to benefit from a phone system that is built for at-home work and can support any number of remote workers.

Simply put, your existing phone system will remain in place. When a person calls into your business and needs to speak with a team member working from home (e.g., sales/support agents), the call will simply be transferred to the representative on the Contivio platform. The customer will have a better experience because the Contivio softphone they are transferred to will be better equipped to address their needs without a loss of connection, dropped calls, static lines, or worse. Even better the will handle all calls directly from their computer with a headset connected.

Unfortunately, many traditional phone systems were not created with an at-home workforce in mind. The technology limits the number of workers who can be out of the office, and the systems are simply not robust enough to handle many outside interactions.

With advanced telephony controls, intelligent routing, native CRM integration, and real-time reporting, you'll have all the features you need to transform your office staff into an omnichannel cloud contact center – no matter where they're working. Whether you have a workforce of 10 or 10,000 who now need to work from home or elsewhere, we have the solution and planning tools to make the transition seamless – even if you're not ready to move your entire team today. We can port over specific departments and at-home workers while it's needed.

Click here to learn more about the features the Contivo platform offers your remote workers. Sign up for a free demo here. If you have any questions specific to your organization, don't hesitate to reach out to sales@contivio.com.