Comprehensive Dashboards, coupled with synchronous notification are crucial when tracking call center performance.
That's why we are thrilled to announce three (3) new updates to our Contivio Real-time Dashboards. These practical, yet game-changing features will help simplify day-to-day queue and staff management with ease. Introducing: Flashing Alerts, Audio Alerts, and Disconnected State Icon.
Flashing Alerts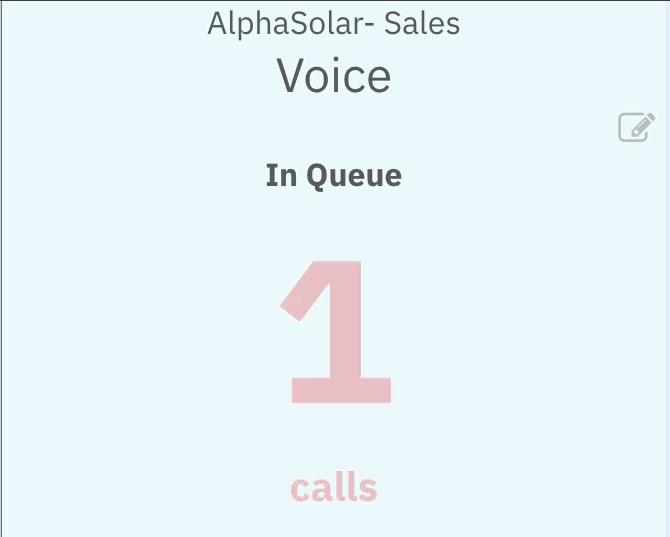 Flashing Alerts ensure statistics tracked within specific queue gauges are distinguished whenever a predetermined threshold is breached (i.e., unanswered calls sitting in a queue). The moment a gauge crosses the desired threshold a red (High Threshold) or amber (Medium Threshold) number will continuously flash until that standard of service is restored.
For instance, a company that manufactures fitness equipment has recently launched a new TV ad advertising their new line of treadmills. This new ad has led to a massive influx of inbound traffic in the direction of the sales team. Their inbound sales queue is backed up well beyond the desired threshold set by the shift manager. The situation has literally gone red alert, Contivio's queue gauge wallboard is notifying the manager with a red flashing number indicating the amount of stagnant unanswered calls in the queue. Without hesitation, the manager quickly identifies and assigns multiple users from a separate queue to help answer inbound calls. Because our easy-to-manage dashboards can be configured and modified with the click of a mouse, this company was able to quickly pivot and manage a large number of inbound sales calls, which in turn expedited their lead-to-cash cycle.
Audio Alerts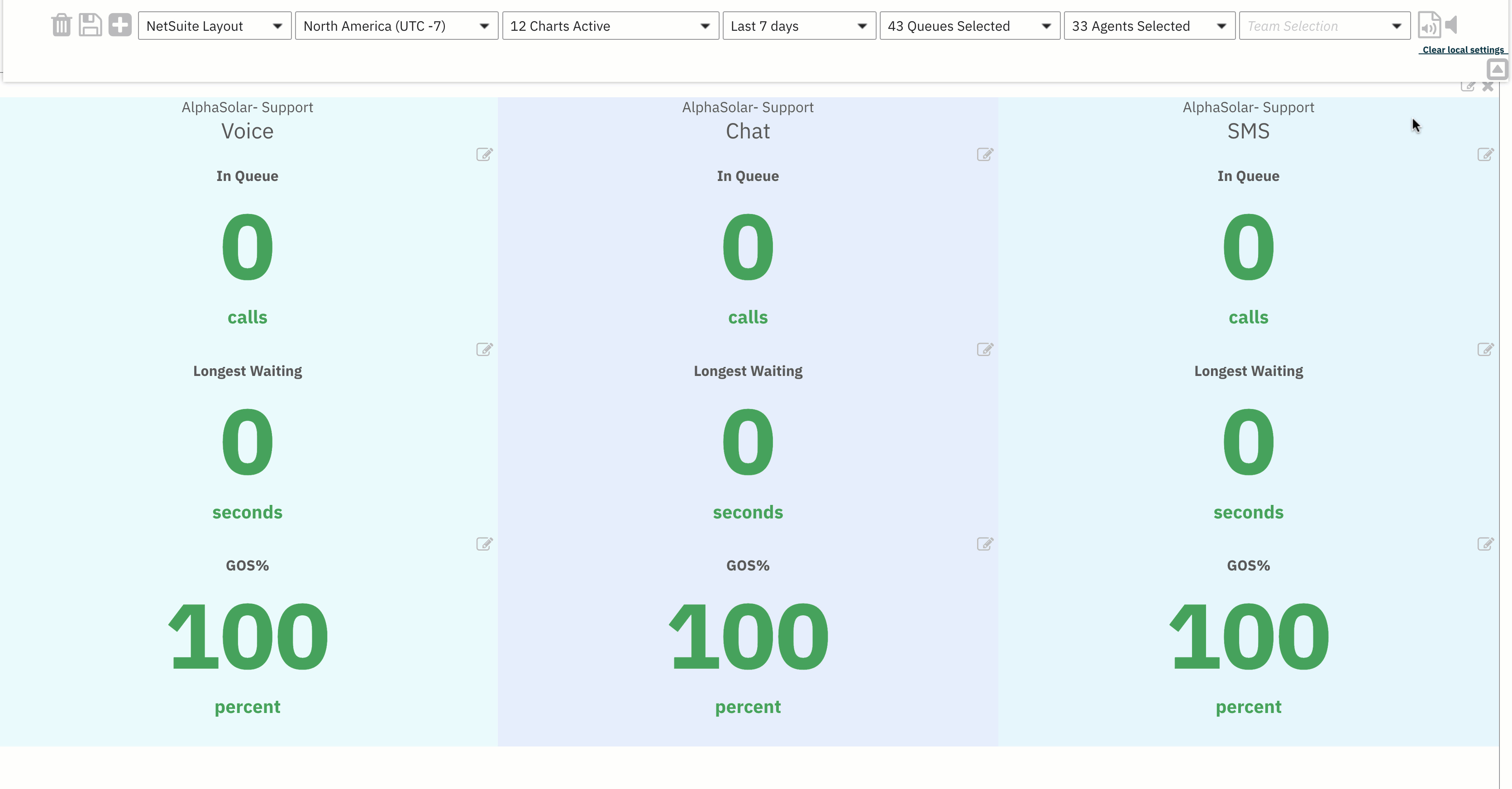 Contivio's dashboard allows for any queue gauge to subscribe to Audio Alerts. When a queue crosses over a threshold an audible ping will notify you of this change, settings also allow for whether active alerts are repeated and how often.
Let's say a company that sells agricultural farming equipment occupies a noisy bullpen-style office with tons of agents and moving parts. Agents are fielding inbound and outbound media, taking lunch breaks, and coming to and from work at all hours of the day. These environments can impact Queue SLAs, hence the need to have tools available that quickly react to an ever-changing work environment.
Luckily this office has Contivio's Queue Gauges displayed on a wallboard for agents and supervisors to track throughout the day. A spike of inbound traffic to a sales queue causes a dip in the response time of agents answering inbound calls. The wallboard is now flashing red showing the number of unanswered calls, along with audio alerts pinging throughout the entire office. Thanks to these alerts, everyone in the office is now aware of the situation, the shift supervisor swiftly pulls agents from a less impacted queue and assigns them to the sales queue struggling to stay afloat. Now those potential leads sitting in the queue don't have to wait for their calls to be answered, which in turn will provide a happier customer experience and may in fact be the differentiator when closing these deals.
Disconnected State Icon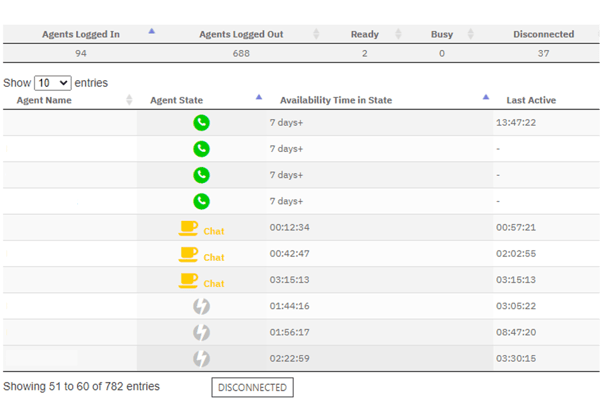 If an agent becomes disconnected in any capacity, a grey lighting icon in the "Real-time Agent Status Chart" is shown for the agent. The time format for "Availability time in State" and "Last active" have also been altered to additionally show days. This is important to give admins clear visibility of agents that cover several days. We will also display a Total Disconnected Count.
For example, a customer care supervisor was looking over their "Real Time Agent Status" and noticed an agent has a grey lighting icon next to their name (indicating they are disconnected). A disconnected state can display for a number of reasons such as a dropped call due to connectivity issues over VoIP, an agent allowing their computer to go to sleep during the day, and even improper log-out procedures.
After investigating the situation the supervisor found that one of the agents was experiencing connectivity issues while working remotely from home. This agent was responsible for manning a customer support queue that handled heavy inbound traffic and was crucial to the implementation of a positive customer experience. The supervisor quickly triaged the situation by disabling SIP ALG on the employee's router which cleared up their connectivity issue with ease.
As you will note from the upgrades above, Contivio's powerful Dashboards, coupled with our new Flashing & Audio Alerts, and Disconnected State Icon, give autonomy back to team leads to make real-time adjustments on the fly. Any drop or change to the operating standard set within a call center will be quickly broadcasted through an audible and visual notification. This will ensure your call center will be operating at a high level, and neither your positive customer experience nor your churning lead-to-cash cycle will have to suffer whenever challenging circumstances arise.
Keep in mind these were just a subset of our enterprise call center suite. For deeper insights into channels, routing capabilities, reporting, and CRM integrations please contact us at 1-800-282-8105 or feel free to book a demo by clicking on the link below.
---
About Contivio: The leading Cloud Contact Center & Telephony solution for your CRM. As a multi-channel contact center provider, Contivio acts as the conduit between the customer and agent to transform your CRM into a fully-fledged call center coupled with IVR, ACD, and CTI.