As a driver to accelerate your business processes, a personalized NetSuite contact center (like Contivio) will drastically improve operations and your customer experiences. With accessibility from anywhere, agents can just login to their contact center with NetSuite integration capabilities, and leverage an abundance of features otherwise non-existent within a typical call center environment.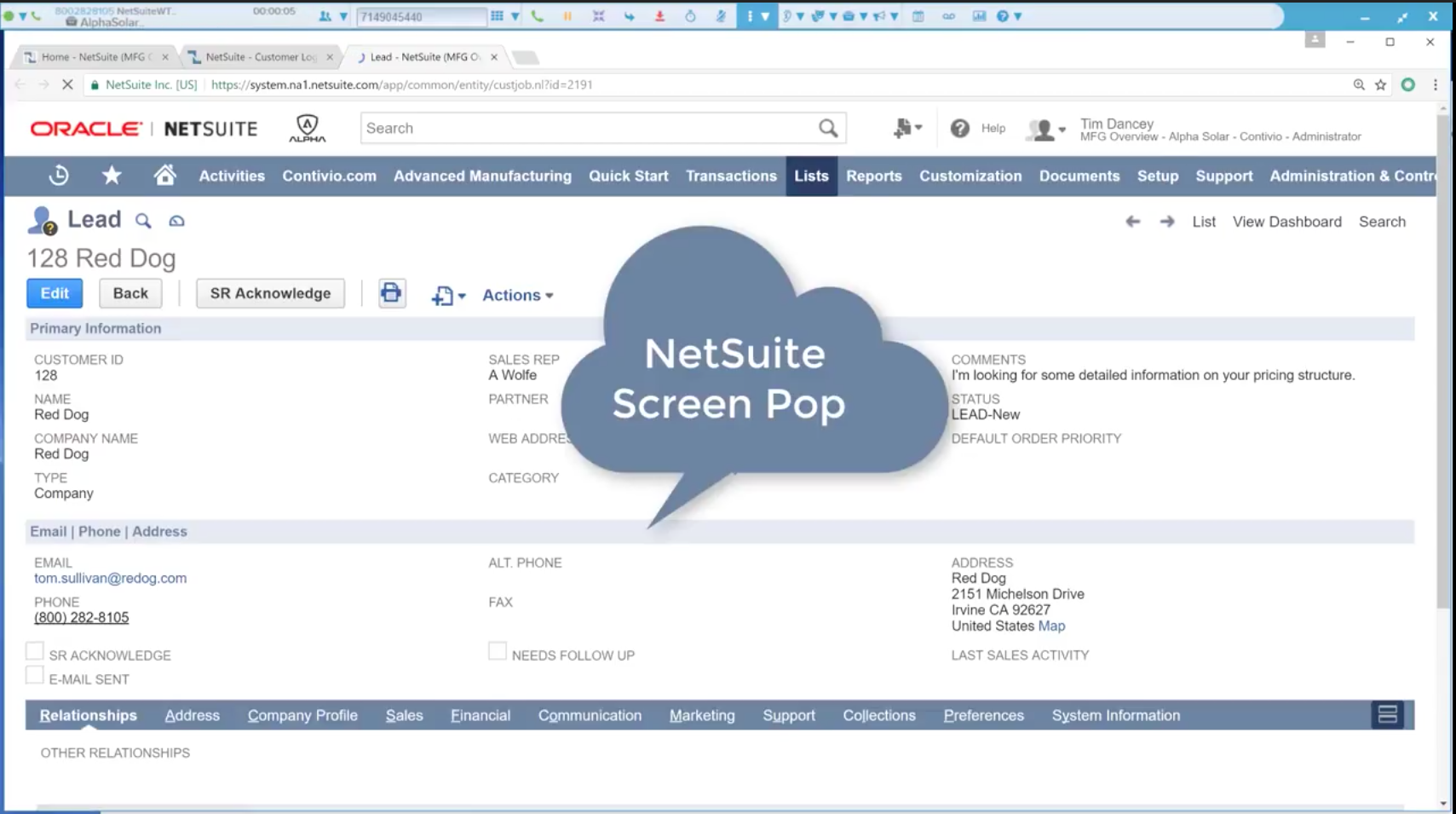 Basic NetSuite Contact Center Integration
By providing customers with transparent views from sales, finance and marketing teams, NetSuite is a leader in the CRM and ERP space. To take advantage of their wealth of information, NetSuite Contact Centers tie directly into the platform by using Computer-Telephony Integration ("CTI"), which optimizes the agent experience with convenient features such as:
Click-to-Dial – One of the most efficient ways for contact center agents to quickly reach customers is by simple click-to-dial functionality. In traditional call center applications the process of reaching customer required dialing a phone manually, and having to search for contacts within a database. With a contact center fully immersed in NetSuite, outbound dialing is a simple right click on the contact records, where customer information is organized and stored.
Screen Pops – Customer personalization drives and dictates overall customer satisfaction. When customers engage directly with a business, having the capability to know exactly who you are speaking with real-time is invaluable. Developed specifically for applications such as NetSuite, live-media screen pops provide immediate visibility to customer information, which previously required a manual intervention.
NetSuite Updates – From a customer-management perspective, recording data within NetSuite is fundamental. Keeping up-to-date information ensures sales and support representatives are kept current, as it relates to customer interactions and advancements. Contact Center applications, like Contivio, recognize this value, as such, provide automated updates to track interactions. Samples would include pushing chat details automatically to customer records, and storing call recording URLs directly to NetSuite. The best NetSuite Contact Centers also typically push the time of the call, the agent who handled it, the call duration, disposition, and notes into NetSuite as well.
Advanced NetSuite Contact Center Integration for CRM Users
By implementing a contact center for NetSuite CRM, companies provide agents with a comprehensive customer life cycle management solution. Accommodating for multiple business units (like sales and support), the customer facing environment of an organization will vastly improve once a stabilized contact center for NetSuite CRM takes flight. By providing a true 360-degree visual of customer interactions and data tracking, sales performance and customer service exchanges become far more efficient. In addition to the CTI features mentioned above, as a superior competitive advantage for reps, NetSuite CRM is best leveraged alongside:
Campaigns – Adding to the product suite of a NetSuite contact center, call campaigns are a great way for sales professional to target leads quickly. Time once spend manually dialing customers is a thing of the past, as campaign functionality automates the process. Even more dynamic (i.e., predictive dialing campaigns) only offer calls to agents once the customer is on the line. On average it may take 20-30 seconds to dial and wait for a customer to answer, but with predictive functionality this wait time is non-existent.
Audio Injection – From an outbound perspective, the job of a cold caller can be redundant. Reaching answer machines most of the time, agents are required to leave the same voicemail time and again. By leveraging audio injection functionality, your contact center for NetSuite CRM allows reps to pre-record voicemail message and hit play when machines are reached.
Live Chat – When handling sales or support interactions, opening up multiple channels is a great tool. By giving customers the flexibility to reach your agents via chat or phone, agents are equipped to handle and close more interactions per day. As a standard offering within our solution, chat interactions will automatically store and log within the CRM.
Contact Center for NetSuite ERP
A contact center for NetSuite ERP is an industry leading SaaS option that supports your entire company. Anywhere from enterprise resource and finance, to CRM managements, companies are quickly recognizing the immense value in a NetSuite contact center. As a tool for tracking financials (e.g., accounting, budgeting and financial reporting), the strength of a contact center for Netsuite ERP lies in the integration capabilities.
With an advanced NetSuite Contact Center, financial reps are treated to real-time visibility of operational and financial performance throughout the company in a streamlined process. From an operational perspective key benefits include:
IT Costs – Cloud models at their core reduce recurring costs (e.g., IT budgets), giving financial teams the power to allocate funds elsewhere. From a maintenance perspective, traditional on-premise deployments required IT involvement when changes were required. The SaaS approach to software, through which a contact center for NetSuite ERP is derived has shifted the paradigm. Changes to the system no longer require onsite maintenance, but instead can be accesses via web based, back-office suites.
Debt Collection – Tackling debt collection via call campaigns is somewhat tricky. It requires agents to place calls within specific hours, and reaching customers unlikely to answer. With a NetSuite contact center acting as the campaign facilitator, generating debt-collection lists simplifies the process of tracking down debtors. In addition, with available call statistics financial teams can schedule calls based on quantifiable data that highlights when calls are most likely to be answered.
Simplified Invoicing – With NetSuite acting as the data warehouse, and the contact center handling interactions, managing customer invoicing has never been easier. With an easy to manage NetSuite interface, sending and receiving invoices through a multichannel contact center has finance teams beaming. The goal of deploying a contact center for NetSuite ERP is to simplify operations, which the early adopters of this technology are quick to highlight.
By combining the power of a leading all-in-one cloud contact center and telephony software, with NetSuite's dynamic package, managing your business has never been easier.
For more information on our NetSuite Contact Center integration capabilities feel free to contact us, and we will be happy to demonstrate how our NetSuite Contact Center is unrivaled within the space.